About the Book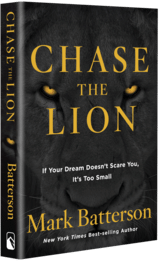 Based upon 2 Samuel 23, Chase the Lion tells the true story of an ancient warrior named Benaiah who chased a lion into a pit on a snowy day—and then killed it. For most people, that situation wouldn't just be a problem … it would be the last problem they ever faced. For Benaiah, it was an opportunity to step into his destiny. After defeating the lion, he landed his dream job as King David's bodyguard and eventually became commander-in-chief of Israel's army under King Solomon.
When the image of a man-eating beast travels through the optic nerve and into the visual cortex, the brain sends the body a simple but urgent message: run away! That's what normal people do, but not lion chasers. Rather than seeing a five hundred pound problem, they see an opportunity for God to show up and show His power.
"Chase the Lion" is more than a catch phrase; it's a radically different approach to life. It's only when we stop fearing failure that we can fully seize opportunity by the mane.
Quit playing it safe and start running towards the roar!
Order your copy at ChristianBook or Amazon or Barnes & Noble.