Discussion Group
WHAT
You are invited to a 6 week book study / group dialogue of Mark Batterson's book - Chase the Lion.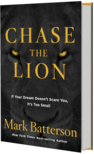 One of my mentors said that he found that the ideas, encouragement, and concepts from this book have the potential to be one of the better guides to helping people achieving their God-given dreams.
The goal is to engage with and encourage one another with what we discover from the book. We will read three chapters a week (if I can do it, anyone can!) and then we will discuss our new insights. I hope that we will become more confident in our dreams and visions, more tuned in to the Lord's voice, and have the courage to pursue what's next in our lives.
Please purchase the book before the first session and read the introduction and manifesto. Order your copy at ChristianBook or Amazon or Barnes & Noble.
WHEN
We'll begin Thursday March 24 at 7pm (Pacific Time) via Zoom (see link below). I hope you'll join us!
Mar 24, 2022 07:00 PM
Mar 31, 2022 07:00 PM
Apr 7, 2022 07:00 PM
Apr 14 - NO CLASS
Apr 21, 2022 07:00 PM
Apr 28, 2022 07:00 PM
May 5, 2022 07:00 PM
May 12, 2022 07:00 PM
Join Zoom Meeting
https://us02web.zoom.us/j/87681600347?pwd=MVUzVVhEZXdiRTRUcFBIaWovK2h4dz09
Meeting ID: 876 8160 0347
Passcode: ChaseLion